MARK YOUR CALENDARS – FRIDAY OCTOBER 6TH!!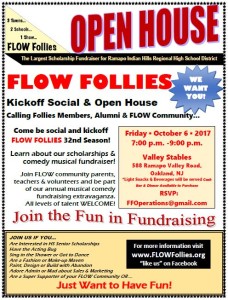 DESIGN FOLLIES NEW LOOK & WIN!
CALLING ALL FLOW AREA ART & CREATIVE MARKETING STUDENTS & GURUS:
Win $100 Amazon Gift Card!
FLOW Follies is ready for a NEW LOGO & Marketing Material update and YOU are invited to submit your creative designs. Winner's art will be featured on t-shirts, website, letterhead, posters & more!
Our New LOGO should reflect who we are, so who is FLOW FOLLIES? 
Since 1986, FLOW Follies has been dedicated to raising scholarships for the graduating seniors of the Ramapo Indian Hills Regional High School District. Operated by parent and community volunteers from the THREE FLOW towns (Franklin Lakes, Oakland, & Wyckoff), the group stages an original musical comedy show, featuring performances by parents, students, administrators and community members. We are the largest scholarship fundraiser for the RIH district.
Our motto is Three Towns…Two Schools…One show! 
And we have so much fun doing it…
We Put the FUN in FUNdraising!
Contest Details:
Open to FLOW community residents of All Ages.
Submission Deadline-December 1, 2017
FLOW FOLLIES LOGO ART
PO BOX 825, FRANKLIN LAKES, NJ 07417
or eMail: FFOPERATIONS@GMAIL.COM
Include: Your Name, Age/School, Phone/Email
Original Logo Artwork must be submitted on High Quality Paper, Digital PDF or Jpeg 
*All Submissions become property of FLOW Follies and will not be returned.
FOLLIES AWARDS $30,250 IN RIH SENIOR SCHOLARSHIPS!
The
scholarship competition was quite impressive, and we are excited to award Larissa LeVon Zayas, the first ever $2500 SUPER SCHOLARSHIP! With participation above and beyond, and following in her families footsteps on & offstage, Larissa has helped with raising money, finding new members, painting and design (where she really shines!) along with costumes, make-up, acting and more.  Larissa truly embodies the FLOW FOLLIES mission.
Alas, the 2017 production is now behind us…a total of 49 students from Indian Hills and Ramapo received their award from the $30,250 distributed, and drumroll….we have now raised nearly… $700,000 since inception- nothing short of WOW!! 
The Scholarship events were truly wonderful & so touching you could feel the appreciation in the air –makes all of the long hours and hard work worth it!  Again, many thanks to all the wonderful folks supporting our organization with their time, creativity, talents, and of course donations…together we make this possible. 
And Now… We Start All Over Again! 
Save on 2017-2018 memberships!
With a 2017-2018 goal of raising $50,000 and awarding even more scholarships, the year long process has already begun!  Writers have been writing, and Producers have been producing- getting all our ducks in a row for an exciting 32nd Annual Production!!  So we begin with Membership, now is the time to sign up for the 2017-2018 season.  If you have a freshman, we recommend the "FRESHMAN 4″  FOUR YEAR VALUE MEMBERSHIP– SAVE UP TO $70 (Super Scholarship eligibility requires 4 year membership!) If you can give a little more, consider the Gold Patron Membership and also get two show tickets and a Patron Listing. If you have an upperclassmen needing to "catch up" on membership, reach out to us! If you own a business or know someone who would benefit from advertising in our  PLAYBILL/Ad Journal, please reach out to a Producer today! 

For Membership and Volunteer Information- Click Here
Special Discounts are limited, so sign up Today!
Questions:  FFOPERATIONS@GMAIL.COM