FINAL SIGN UP
MON, DEC. 14
7:30-9:00 PM
IHHS LIBRARY
ATTENTION:
FINAL SIGN UP ADDED – Mon., Dec. 14
at Indian Hills 7-9 pm (please come and join us!)
It's FLOW Follies 30th Anniversary Reunion Show!

We are pleased to announce sign-ups for this years' special production featuring favorite numbers from 30 years of FLOW Follies shows!
Sign-ups will be held at Indian Hills High School LIBRARY
97 Yawpo Avenue, Oakland, NJ
Wed, Oct. 7 – 7:00-9:00 pm
Mon, Nov. 16 – 7:00-9:00 pm
Tue, Nov. 17 – 7:00-9:00 pm*
*Join us for informational meeting @8:00 pm
LAST SIGN UP Mon, Dec. 14 – 7:30-9:00 pm in IHHS LIBRARY
FLOW Follies 2016 Show Dates
Indian Hills Auditorium
Thursday through Sunday
March 10, 11, 12 @7:30 pm & and 13 @2:00pm
Come join onstage or off as part of the crew or a committee. Your support is needed as we continue in our fundraising tradition of providing scholarships.
Find out how to get involved! Spread the word and have some fun helping the class of 2016.
For more information visit www.FLOWFollies.org
FLOWFolliesmail@gmail.com
Since 1986, FLOW Follies has raised over $600,000 which has been distributed to hundreds of students making us the single largest scholarship fundraiser for our two high schools.
We are a registered 501(c)3 non-profit organization under the parent organizations of the Ramapo Indian Hills Regional High School District.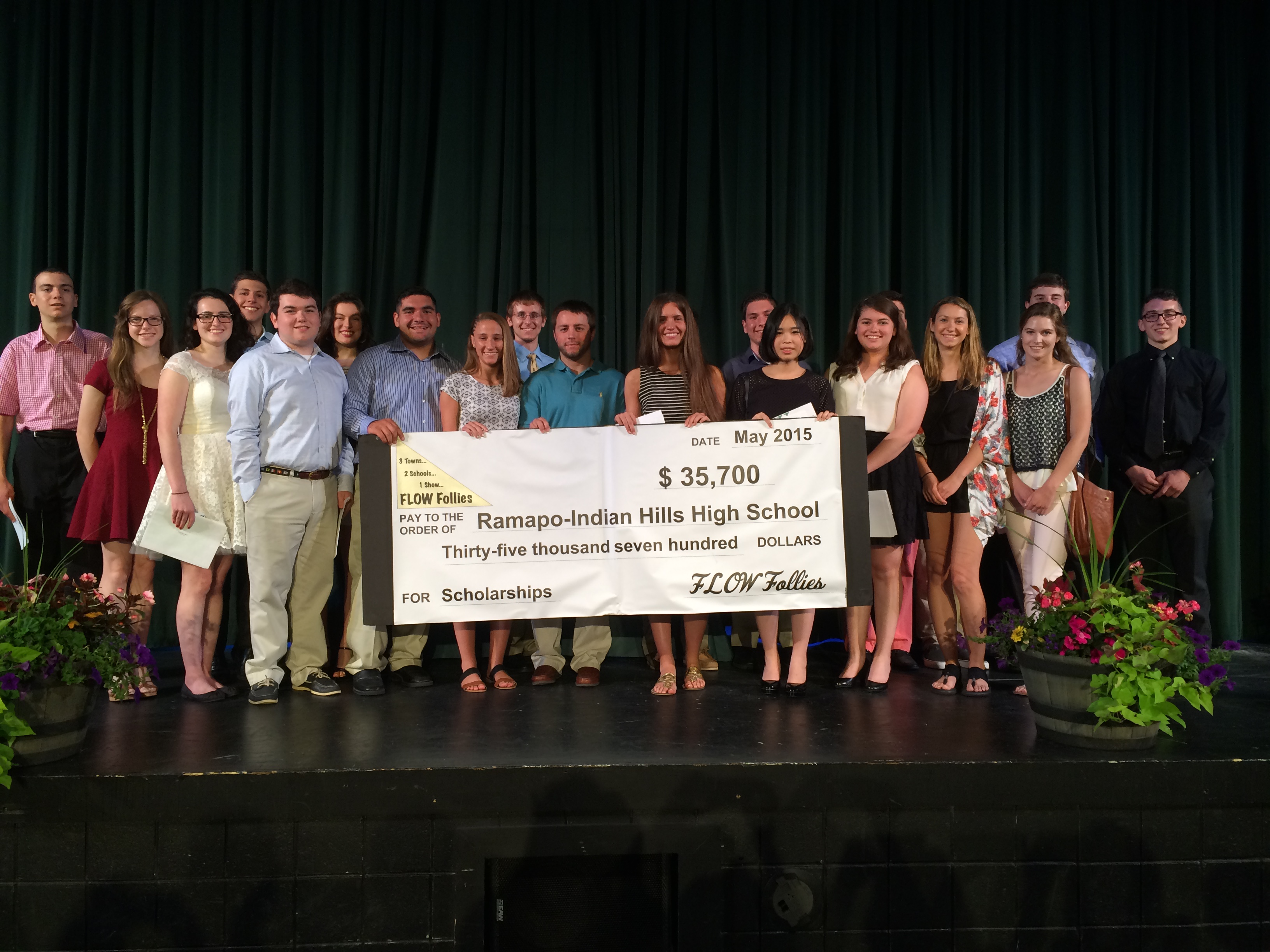 Mark Albanese, Nicholas Bonini, Jacqueline Brockel, Katherine Budinsky, Meredith Chagares, Yu Chi Chan, Hayley Clark, Kenneth Crocamo, Harley Curran, Joseph D'Amato, Nicholas Dekens, Matt Del Duca, Sophie Deziel, David Goetschius, Jr., Kelly James, Adam Polevoy, Anthony Scher, Erik Sloezen, Lucas Thompson, Parker Valdez, Justin Yandoli, & Michelle Zink