FLOW Follies Annual Playbill Cover Art Contest Winner!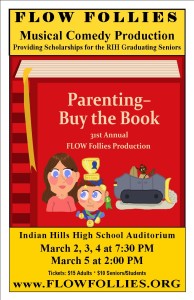 FLOW Follies is excited to announce that Emily Lewis, Indian Hills High School class of 2019 is the winner of their annual Playbill Cover Art Contest for its' 31st Annual original production "PARENTING-BUY the BOOK".  First prize winner receives a $50 gift certificate, show tickets and of course, the esteemed, Playbill Cover- Congratulations EMILY!
Runner up Alyah Oberoi from the Ramapo Indian Hills School District will receive show tickets. FLOW Follies art contest was open to FLOW community High School and Middle School Students to enter original artwork for the playbill cover.
PARENTING- BUY the BOOK", is about navigating parenthood from birth to high school graduation, highlighting the various styles of parenting (think  "Helicopter", "Free Range" "Overachiever" & "Snow Plow" parent types…oh my!), along with the children's perspectives, making for hilarious takes on the trials and tribulations faced by families everywhere.  Take the funny and add renditions of classic Broadway and Billboard Tops, professionally choreographed dances,  special guest performances from RIH Marching Braves & Color Guard, FLOW Tappers and, the adorable FLOW Follies K-8 Children's choir and you have a highly entertaining show for all ages!
Performances to be held March 2-4 @7:30pm and 5 @2:00pm at the Indian Hills High School Auditorium, 97 Yawpo Avenue, Oakland, NJ.
Since inception in 1986, FLOW Follies has raised over $650,000 which has been distributed to hundreds of students, making it the single largest scholarship fundraiser for the two high schools.   FLOW Follies is a committee under the parent organizations for Ramapo and Indian Hills High Schools (IHHS PTSO/Ramapo APTS) registered  501(c) 3 non-profit organizations.
Tickets Available online and at the Box office 30 minutes before Showtime. www.FLOWFollies.org
 Contact: Andrea Levy (201) 739- 8278 or email:  FFmarketingPR@Gmail.com