CLICK HERE FOR CHILDREN'S CHOIR FLYER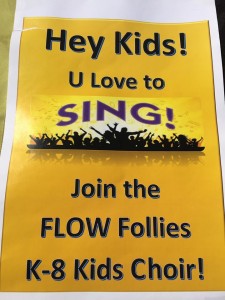 OPEN CALL- DEADLINE EXTENDED!
 ATTENTION K-8 STUDENTS!  Do you like to sing? Would you like to be a part of a real show on stage?  The  "FLOW Follies Children's Choir", now in its third year, features the singing talents of K-8 students from Franklin Lakes, Oakland and Wyckoff. They have become one of the highlights of our annual show!
FLOW Follies' 31st annual musical comedy production will feature favorite songs, fun dances, and comical sketches performed by the many talents of parents, students, and educators from FLOW communities in an effort to have fun, entertain, and fundraise for Ramapo Indian Hills High School scholarships!
This year the children will sing the pop song, "TRY EVERYTHING" from the animated feature "ZOOTOPIA", made popular by Shakira.
And…
Y
OU

are invited to be a part of it!
---
 *

PERFORMANCE SCHEDULE
March 2 – 5, Thursday – Saturday 7:30pm and Sunday 2:00pm.  
*Perform in any or all of the four FLOW Follies shows.
 REHEARSAL SCHEDULE – Only 4 dates!
 6PM -7PM at Indian Hills High School, 97 Yawpo Ave. Oakland, NJ
JANUARY DATE – Thursday – 26th
FEBRUARY DATES– Tuesday – 7th, Thursday- 16th, Monday- 27th
---
Sign-up…with a Friend or Two! 
Include: Child name, School, Grade, Parent/Guardian Name & Contact
---
Being a part of our children's choir is a wonderful opportunity for young families to learn about our organization.
We are open to the entire FLOW community OF ALL AGES!
After all, today's K-8 students are our future graduating seniors!
For show & ticket information please visit   www.FLOWFollies.org
FLOW Follies is a local non-profit organization, raising scholarship funds for graduating high school seniors in the Ramapo and Indian Hills High Schools and is a committee under the IHHS PTSO; a registered 501(c)(3) Corporation.