This slideshow requires JavaScript.
Saturday, November 19th 10am- 12pm
Indian Hills High School
Be Part of the
FUN

in

FUN

DRAISING!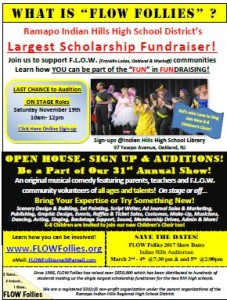 FLOW Follies invites Franklin Lakes, Oakland and Wyckoff Community members to participate on or off stage in our 31st Annual Comedy Musical Fundraiser Production!
Last Chance to Audition for onstage roles will be held:
Saturday, November 19th 10am-12pm at Indian Hills High school.
Performances will be held March 2-5, 2017 at Indian Hills HS.
If you sing, bring a song (recording is best, sheet music ok too)
If you dance- bring your dancing shoes
If you have an act- bring it on!
If you can can't dance, can't sing, can't act….that's ok too! Everyone from our FLOW community is welcome! (whether you have an RIH student or not!)…
*Parents of k-8 children are welcome to sign up for the FLOW Follies Children's choir on these dates as well!
Meet & Greet Members & New Director! 
FLOW area residents (Franklin Lakes, Oakland, Wyckoff) with or without a high school student are invited to become a FLOW FOLLIES member and join us on stage or off to support the Ramapo Indian Hills School District's Largest Scholarship Fundraiser!
Everyone who becomes a FLOW Follies member is welcome to participate on the FLOW Follies Stage! 
Auditions help us bring out the best in all participants!
Interested in offstage and/or behind the scenes participation.
Join FLOW Follies, we put the FUN in FUNDRAISING!
Questions:  Andrea Levy-Davakis   201 739 8278  or  FFmarketingpr@gmail.com